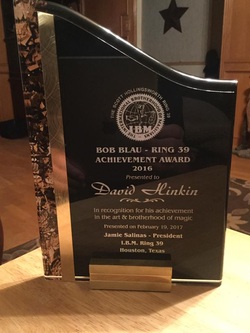 Bob Blau Ring #39 Achievement Award for 2016 - David Hinkin
Congratulations to David Hinkin for receiving the Bob Blau Achievement Award from I.B.M. Ring #39 for 2016 for the second consecutive year. This is a very special because it's not given out every year. This very special award was presented to David during the Installation of Officers Banquet on February 19, 2017.

---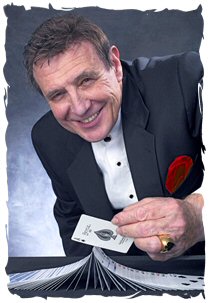 I.B.M. Bob Blau Ring #39 Renamed to Scott Hollingsworth Ring #39

By an overwhelming majority and a great attendance, the local I.B.M. Ring voted to change its name to the Scott Hollingsworth I.B.M. Ring #39. This is in recognition of all the work the Scott has done for the local Ring and for the magic community in general. For over two decades, Scott Hollingsworth was the Entertainment Director at Houston's "Magic Island". He was also the President of the Texas Association of Magicians when Houston hosted the convention in 2004. Congratulations, Scotto!

---
Meeting Information

I.B.M. Scott Hollingsworth Ring #39
meets at 7:15 pm the 4th Monday of each month (excluding December). The Board meetings begin at 6:45 p.m. The meetings are are normally located at Bayou Manor, 4141 South Braeswood, Houston, Texas 77024. We meet in the auditorium.
Click here for directions.
However, PLEASE NOTE: Until further notice and while the Bayou Manor is undergoing major renovation, we will meet at the Ronald McDonald House located at:
1907 Holcombe Blvd, Houston, TX 77030
Click Here For Directions
Contact Information

Possible Meeting Themes

July - Annual Flea Market
Members may bring used and new items that they would like to sell. You can set up as much stuff as you want for the one low price of $10.00 per table. There is no Seller or Buyer commission that goes to the Ring; however, it is required that each Seller donate at least one item for the Ring #39 table. All proceeds from the sale at that table will go to the Ring.

August - Back to School Magic
Magic you would do that has a theme related to libraries, schools, or otherwise teaching children through the use of magic.

September - Openers Versus Closers
Bring your favorite opener or closer effect. They can be close-up, stand-up or stage.

October - Spooky Magic and Apparatus Night
Effects with a Haunted / Halloween Theme or Tricks with Apparatus.

November - Close-Up Night or Holiday Tricks with Turkeys, Santa Claus, Easter Bunny, Leprechauns, or ???
Come prepared to show us your best close-up magic or how creative you are for the holiday season.

December - No Meeting due to holiday

January - FREE Lecture Night - Membership Night
The meeting will be the final reading of the slate of officer nominees and the official voting by members for the incoming I.B.M. Ring #39 officers. Following the meeting will be our annual FREE lecture for all dues paying members of Ring #39. You can pay your annual Ring dues on this night; however, if you are not a member of the National I.B.M. and/or the local Ring #39, then you can either join or you can pay $20.00 to attend the lecture.

February - Installation of Officers Banquet

March - Apparatus Night
Routines using "Do It Yourself" apparatus. Start planning now to bring your favorite home project in magic. If you do not build your own apparatus, come prepared to demonstrate your presentation of some commercial apparatus effect.

We hope to line us several experts for a "Do It Yourself Forum" to discuss construction problems and to answer Your questions.

April - Spring Magic
No, this doesn't necessarily mean spring flowers and spring snakes, but make you do outdoors when the weather is nice. This will be your chance to perform the tricks you do for outdoor festivals, picnics, pool parties and other venues where you are exposed to the elements.

May - No Meeting Due to Memorial Day Picnic

June - My Favorite Magic Trick Learned From A Magic Magazine
There is a wealth of material lost in our files of magazine back issues. Come prepared to perform effects taken from your favorite magazine.
Join the International Brotherhood of Magicians

Visit
http://www.magician.org/
to access a membership application on the I.B.M. website. You can pay by PayPal or credit card but you do need two sponsors (current I.B.M. members) to vouch for you and endorse your application. You can then check out all the benefits to becoming a member plus see the costs associated with joining the National organization by
clicking here.
Membership forms are available at all I.B.M. #39 meetings or if you prefer, then you can
click here
and print out your own form. Just complete that form and bring it on to the next club meeting to get two other members in good standing to sign for you.