Curt Miller to Present "A Magical Christmas 2: Home for the Holidays"
December 19-28, 2013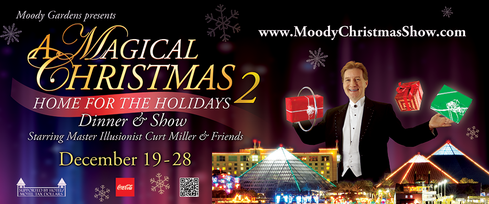 Moody Gardens Presents A Magical Christmas 2: Home For The Holidays Dinner & Show starring Master Illusionist Curt Miller & Friends
Through a child's eyes, the holidays are filled with wonder and amazement; with great food and the joyful celebration of family traditions. Moody Gardens invites you to relive that magic and excitement with the new production of
A Magical Christmas 2: Home for the Holidays Dinner & Show
starring Master Illusionist Curt Miller and Friends at the Moody Gardens Convention Center.
A Magical Christmas 2
is a visual performance that combines dazzling magic, family comedy, inspiring music and beautiful dance to celebrate the childlike wonderment of Christmas. Watch as people appear and disappear before your eyes. Enjoy your favorite Christmas melodies and experience traditional Christmas narratives enhanced with the spectacular creativity of Curt Miller.
A
Magical Christmas 2
runs December 19 – 28. Doors open at 6:30 pm for guests to enjoy a sumptuous holiday buffet dinner prepared by renowned Executive Chef Urs Schmid. The one-hour spectacular starts at 8 pm.
Each ticket to
A Magical Christmas
2 includes one admission to the show, a holiday buffet dinner, admission to the Festival of Lights – the Gulf Coast's largest holiday lighting event, complimentary parking, all taxes and gratuities. Ticket prices start at $55 for adults, $39 for children ages 3-12 and $15 for infants up to 2. Rates for groups of 20 or more are $45 for Adults, $29 for children, and $15 for infants up to 2. For details, visit
MoodyChristmasShow.com
or call 409-683-4186.
Hotel packages are available from $209 per night for couples. Prices start at $259 per night for a family of four. Packages include overnight accommodations in the beautiful Moody Gardens Hotel, tickets to
A Magical Christmas 2
, tickets to the Festival of Lights and complimentary parking. For reservations call 888-388-8484.
A Magical Christmas 2
is made possible through the support of local hotel and motel tax dollars from the city of Galveston generated to encourage tourism and to further promote arts and entertainment on the island.
---
Scott Hollingsworth Featured on The Magic Word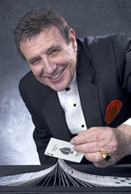 Scott Hollingsworth was the Entertainment Director for Houston's former Magic Island. In that position he has seen the acts of nearly everyone from the celebrated to the unknown like Lance Burton and Johnny Thompson all the way down to Scott Wells. For those who would listen and take his advice, he offered invaluable direction tips, ideas and suggestions that tightened up even the most professional acts. He still offers his service as a magic coach in these days of post-Magic Island. You can find out more on his website.
But Scott was also a pioneer in the field of restaurant magic. His 1974 lecture notes, "Cashing In On Close Up" served as the best source on marketing yourself to restaurants. Thirst notes have long been out of print until now. They have been redone, updated and reprinted and available through Scott's website. But before you think this is a pitch to buy his stuff, let me say that I am getting nothing out of it. I am just passing on some information to anyone who might be interested.
And in that vein, this week's Magic & Martinis' Thursday on The Magic Word features Scott's third mini-lecture on restaurant magic that he gave to the H.A.O.M. meeting on November 4, 2013. Although the podcast is available through iTunes, you can download the MP3 file directly from the website along with viewing a video of Scott performing one of his signature tricks, plus read the text and view some pictures. And as a bonus from Scotto, you can download three PDF's including two trick instructions.
All this is available now at:
http://themagicwordpodcast.com/scottwellsmagic/scott-hollingsworth
---
Magic is Good Medicine

Stephen Shain coordinates the efforts of local magicians to perform magic for sick and convalescent youth and adults. This one minute video below was recorded in the summer of 2013 by Memorial Hermann Hospital for their in-house, close-circuit broadcast station. It is a short synopsis that shows how magic can help brighten the day for children.

Magic on the Grill Every Thursday and Saturday Night


David Rangel coordinates a covey of local area magicians who perform close-up magic each week atop hibachi grills at Tokyohana Grill and Sushi Bar. Come enjoy some excellent oriental cuisine or sit at the sushi bar and enjoy some sushi and a drink with some magic on the side.

Where: Tokyohana Grill and Sushi Bar, 3239 Southwest Freeway, Houston, TX 77027
When: Thursdays from 7:00 - 9:00 p.m. and Saturdays from 7:00 - 11:00 p.m.

---
Shane Wilson & Chris Alonzo Performing At Sakura Japanese Steakhouse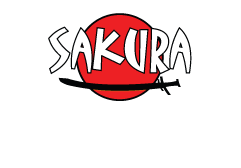 Shane Wilson & Chris Alonzo
now appear regularly at Pearland's superb hibachi restaurant,
Sakura
. Catch live performances every Friday and Saturday beginning at 7:00 p.m.
Fridays - Chris Alonzo
Saturdays - Shane Wilson
Check Shane's calendar by
Clicking Here
for the current schedule of this and other of his public performances.
---
See Ben Jackson Live Each Week at Campioni Restaurant in North Houston

Ben Jackson performs close-up magic on Tuesday and Friday nights when it doesn't conflict with his busy professional schedule of corporate performances. Catch him when you can.

Campioni - 5419 FM 1960 West, Houston TX 77069
Phone 281-893-2267 for current information and to make dinner reservations

---
Mark Melchor Appearing At The Cafe Luxor

Karaoke and a Magic show? What better way to spend your Wednesday night than coming out to Cafe Luxor and having some fun with Peter V, and Mark Melchor, as Peter will be running the Karaoke and Mark will be performing a live Magic Show you won't want to miss.

Hungry? Cafe Luxor has some great food, Thirsty? Get you a drink or two from the bar, Cafe Luxor also has the best Hookah around, for all you Hookah smokers.

Come out Hookah Smokers and friends to enjoy a nice evening with Mark Melchor as he performs his Spellbinding Magic Show at The Cafe Luxor where you can also enjoy smoking Hookah or drinks from the bar, and sing your heart out with Karaoke. Mark will perform close-up magic starting at 10:00 p.m. with a completely different stage show each week beginning at 11:00 p.m.

Come out and support live magic!

---
Don't Forget...HoustonMagic is now on Facebook


If you have a Facebook account (and if not, then you're missing out on potential business opportunities), then please visit
http://www.facebook.com/HoustonMagic
and hit "Like" to be added to the group. Here is your chance to let the world know what you are doing on the local Houston magic scene. Please post your links, videos, photos, announcements, upcoming show events, and more. Join the group today!
---
Tweet me

You can now follow what's happening in the Houston Magic Community by joining Twitter and following @magichouston which is our new Twitter account name. Updates of who is doing what and where will posted as they are relevant to our community. Follow us and we will follow you and retweet as necessary. Go to
www.twitter.com/magichouston
to begin following us NOW!
---
816 Podcast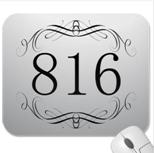 816podcast is the lovechild of David and Alex Rangel
– the irregular, irreverent podcast featuring magic, magicians and talk about all things magic. Be sure to set this as one of your regular "must hear" and "must download" to your MP3 player. Also, they give away
HUNDRED$ OF DOLLAR$
in prizes through their Twitter feed at
http://www.twitter.com/816podcast
.
It is quickly becoming the #1 source for current news and product reviews pertaining to the Art of Magic. "We keep it short and sweet, to the point with an unedited & unbiased opinion" While the 816podcast team makes all efforts to maintain a PG13 rating, well lets just say "You might learn some new words"
The website address is:
http://816podcast.tumblr.com/#description
---
The Magic Word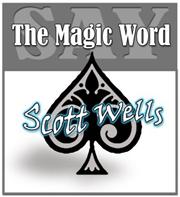 The Magic Word
is the new podcast hosted by Scott Wells
filled with magic convention coverage that is not posted anywhere else on the internet. It also includes photos, chats and interviews with magicians about what's going on in and around the magic world. Be sure to listen and subscribe to the RSS feed so you receive the latest as it is posted. You can download an iPhone app for this podcast at:
http://app.cat/themagicword
Scott also continues to contribute convention reports on the major magic events to the
MagicNewswire
podcast. Be sure to tune in and listen. You can listen online or by downloading any of these podcasts and carry it with you for your daily commute. If you have any news items, comments or suggestions, then please contact Scott at
Scott@ScottWells.com
with your newsbits. You can also follow The Magic Word on Facebook at:
http://facebook.com/themagicwordpodcast/
The website address is: http://TheMagicWordPodcast.com/
---